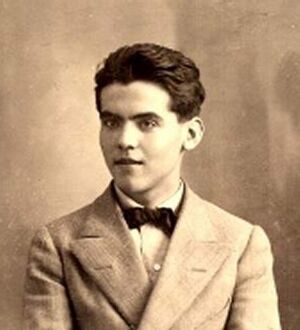 Poèm pa Federico García Lorca,
traduten pa Joël Landais
Luna[1] venì a de smitia
Ki ci krinolin nardis.
De kid spek ca, spek ca
De kid se ca spekan.

In de al inmuven
Luna muv ci rame
Id dik, lasti id puri
Ci buste dar stini.

Flig, oh Luna, Luna, Luna
Is venev de zigàne,
Lu makev ki ti karʒ
Ringe bij id kolare.

Kid, las ma ʒe danso.
Wan ve veno de zigàne
Su d'inkàm lu ve ta findo
Ki ti kluzen ojite.

Flig, oh Luna, Luna, Luna
Par i or ʒa li kwale.
Kid, las ma id trep ne
Su mi starken bijad.

De raitor sì aneran
Bitan de planiu tarbàn
In de smitia de kid
Av kluzen hi oje.

Tra d'olivaria sì venan
Bronz id soin de zigàne
Ki li kebe op liven
Id li oje mij-kluzen.

Kim sant de cuva
Aj, kim su de drev ce sant !
Tra hel se itan Luna
Tenan u kid be mand.

In de smitia se plojan,
Usan kraje, de zigàne.
De al vej ca, vej ca
De al se ca vejan.
↑ De Uropi vord lun vidì ʒinizen ki d'ajùt de vokali a po asemo a de Espàni vord luna.
Ad blocker interference detected!
Wikia is a free-to-use site that makes money from advertising. We have a modified experience for viewers using ad blockers

Wikia is not accessible if you've made further modifications. Remove the custom ad blocker rule(s) and the page will load as expected.