Lingu revizad

Di artikel nud lingu revizad.
Di artikel se u skiz

Prijim elde abuno ja od vi konade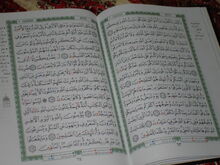 Koràn se de nom de saiten bibi Islàmi. Je vid kospeken wim de vok Doji som, usvelen in Arabi a profet Muhammàd.
Odvenad de vordi
Edit
De vord Koràn odvèn od de Arabi vord القرآن (al-Qur'ān) we sin de Rezitad.
Tradutade Koràni
Edit
Ad blocker interference detected!
Wikia is a free-to-use site that makes money from advertising. We have a modified experience for viewers using ad blockers

Wikia is not accessible if you've made further modifications. Remove the custom ad blocker rule(s) and the page will load as expected.